So, you are reaching end of another sun-filled and, hopefully, fun-filled day in beautiful Canggu and the time has come to seek out the best happy hour deals to help you get that early evening buzz. Fortunately Bali's hipster haven, is home to a burgeoning bar scene, so there are plenty of places to choose from. In fact there are so many options, with new venues opening practically every week, that it can be difficult for the uninitiated to decide between them. With that in mind, here is a quick guide to some of the best deals in town.
Old Mans
An old staple of the Canggu scene, Old Mans is in a great location, at one end of Batu Bolong and right by the beach. Basically everyone will find themselves here at some point during their time in the 'Gu and, with its laid back atmosphere, great views and tasty food options, its easy to see why. Happy hour gets underway at 5pm, everyday, and lasts until 6pm. During this time you'll get 2-for-1 on all drinks, not to mention a great view of the sunset. Its best to get there early though, as it can a little crowded.
Happy Hour: 5pm – 6pm daily
Location: Pantai Batu Bolong Street No.117X, Canggu, North Kuta, Badung Regency, Bali 80351
Tusu
Tusu, brought to you by the same people who created Seminyak's trendiest club, La Favela, is one of the hottest destinations in Canggu. This is probably the most sophisticated entry on this list, with book-lined walls and vintage furniture giving the whole place an 'old-worldy' kind of feel, but don't let that trick you into thinking that this isn't a great place to come and party the night away. Happy hour runs between 7pm – 9pm every night except Wednesdays (but more on that in a minute. What's on offer varies from night to night, but you can expect to get a 2-for-1 on either Bintangs or one of their fantastic signature cocktails – there's often a food deal thrown in for good measure as well. On Wednesdays things get started an hour earlier and all signature and classic cocktails are on 2-for-1.
Happy Hour: 7pm – 9pm daily (starts at 6pm on Wednesdays)
Location: Jl. Subak Sari No.2, Canggu, Kec. Kuta Utara, Kabupaten Badung, Bali 80361
Black Shores
Definitely a local trendsetter and known for its amazing signature. / craft cocktails, Black Shores is a great place to come and hang out at any time of the night. Happy hour deals start at 6pm and last until 8pm and you can cocktail and main meal for as a little as Rp 100,000! When you have had your fill downstairs, head up to their 2nd storey dance floor and get your groove on listening to some of Bali's best Djs
Happy Hour: 6pm – 8pm
Location: Jl. Tanah Barak No.8, Canggu, Kec. Kuta Utara, Kabupaten Badung, Bali 80351
Alternative Beach
This is the newest player in Canggu's beach club game (technically this is more of a 'pool club', but it is a truly amazing pool!). If you are looking for looking for the perfect place to chill out and while away the day, with some tasty food and great music, then this it the place to come and if relaxing by the pool gets to be a little too much then you can check out the onsite spa to help you truly unwind! Happy hour is a daily affair between 3pm – 6pm where all classic and signature cocktails are available on a 2-for-1. On Sunday's things are evening better as you can combine your cocktails with a sunset BBQ!
Happy Hour: 3pm – 6pm daily
Location: Pantai Batu Bolong Street No.78, Canggu, North Kuta, Badung Regency, Bali 80361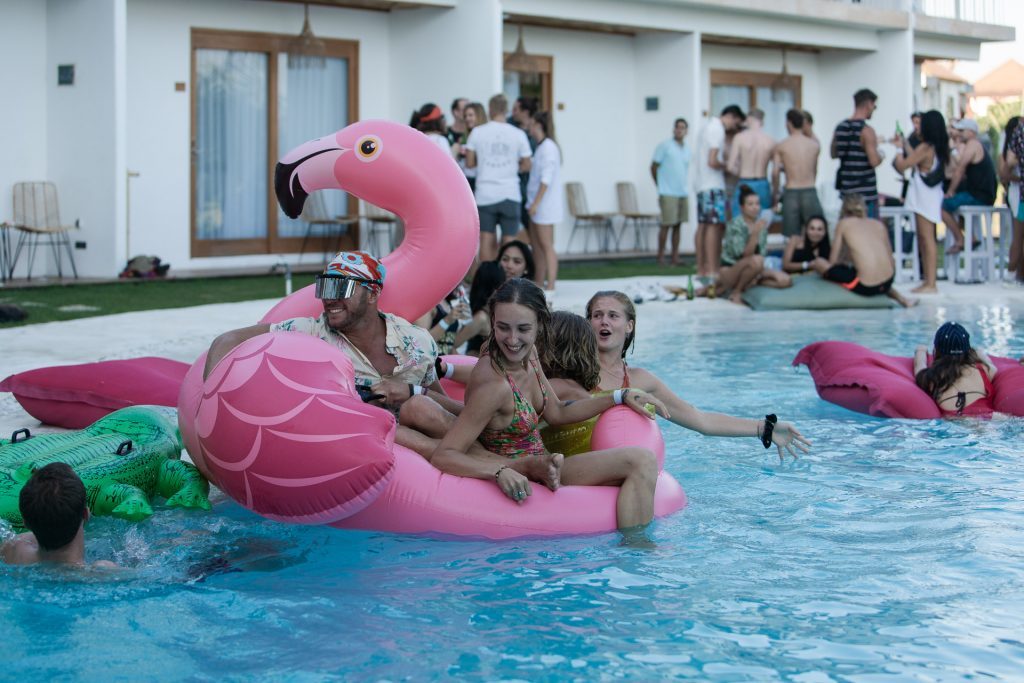 Deus Ex Machina
Another long term fixture of the Canggu scene, Deus Ex is an eclectic blend of a bar – cafe – motorbike shop – surf shop – art gallery! This is the hipster hangout to end all hipster hangouts and there is always something going on here. The happy hour ball gets rolling at 5pm and carries on until 7pm every night of the week, during this time you will get some great discounts on wine, beer and cocktails. Deus Ex is also notorious for 'Tacos and Tattoos Tuesdays' – buy a plate of tacos and you can be the proud owner of a free tattoo!
Happy Hour: 5pm – 7pm daily
Location: l. Pantai Batu Mejan No.8, Canggu, Kec. Kuta Utara, Kabupaten Badung, Bali 80361
Grass Terrace Cafe
At the Grass Terrace its happy hour all day long – with 2-for-1 on drinks whenever you want them! Even better though, they have a crazy hour between 6pm – 7pm, Wednesday through Sunday, when Bintangs cost an absolutely insane Rp. 10,000! This may not have the best view in the 'Gu, but it is a cosy little venue with good food, great smoothies and with such amazing drinks deals, really, who's to argue?
Happy Hour: All day!
Location: Pantai Batu Bolong Street, Canggu, North Kuta, Badung Regency, Bali
Ji Terrace by the Sea
Wind your way up to the 3rd storey of this beautiful old building (trust me it's worth a visit just to have a look around) and you will find yourself stepping out onto a gorgeous rooftop terrace with, what is probably, the best sunset view in the whole of Canggu. Happy hour lasts between 3pm – 6pm (you get 2-for-1) on beers and a great discount on cocktails. Believe me, you will want to get here early as there are some truly world class cocktails on offer. As a Japanese / Asian fusion restaurant, you can expect to find a few unusual twists in your drinks that you won't find anywhere else in Bali. If you are like me, you will want to try everything on the menu, but I can highly recommend the 'Kaiso' a mixture of seaweed infused shochu, ginger, grapefruit, agave syrup and lime
Happy Hour: 3pm – 6pm daily
Location: Jalan Pantai Batu Bolong, Canggu Beach, Canggu, Kuta Utara, Canggu, Kec. Kuta Utara, Kabupaten Badung, Bali 80361