When thinking of Bali, the image most people first conjure to mind is one of white sands, a vivid blue ocean and palm trees swaying gently in the breeze. There is a reason that Bali is considered one of the world's foremost tropical paradises and, when it comes to beaches, it certainly does not disappoint. Whether you are looking for a trendy place to be seen, a secret hideaway or the perfect wave, Bali will have a beach to suit. Here's our pick of a few of the best:
Kuta Beach
Yep, you heard right. We realise it's definitely Bali's most well known beach and arguably one of the most famous surf beaches in the world, Kuta Beach may not be the secret gem you have been dreaming of, but it is definitely worth a look. Its usually pretty crowded but the popular parts are clean and well maintained and its a large beach so you won't have a problem finding some space even when its busy. Its also conveniently located just a couple of minutes walk from some of Kuta's best shopping malls, Beachwalk and Discovery, so its a great place to go and unwind after a spot of retail therapy. If you are not quite up for full on surfing but still want to get involved in the action, there are plenty of places where you can hire a bodyboard. If even that sounds a bit intense, then is the perfect location to kick back with a Bintang and watch the sun go down.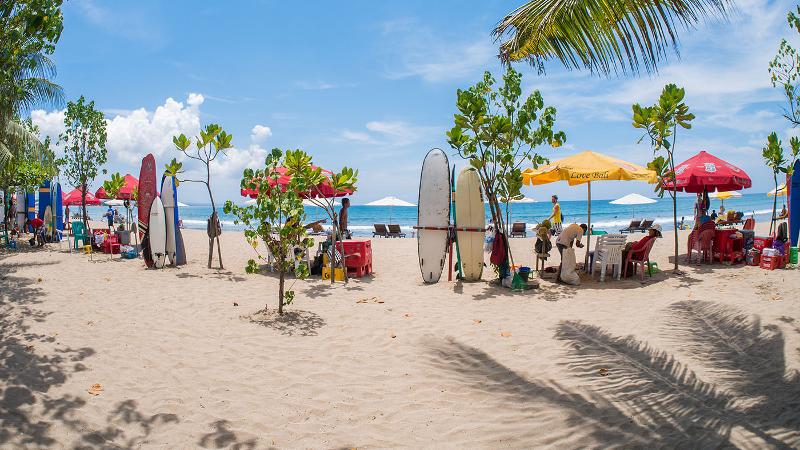 2. Jimbaran Bay
A little way round the coast from Kuta, you will find Jimbaran Bay, a 3km stretch of glorious white sand, and whilst the distance may not be great, the vibe could not be any more different. Jimbaran itself is still just a fishing village (albeit quite a big one now) and the feel of the beach is similarly chilled. The surf here is not so big, making it a great beach for swimmers and there are plenty of rustic bars and cafes serving up snacks and drinks right on the sand.
In the early evening, the beach really starts to come to life as tourists and local alike flock there to catch the sunset and Jimbaran's, deservedly, famous seafood restaurants begin to open up.
3. Amed Beach
The village of Amed can be found way up on Bali's northeastern coast, well away from the more popular tourist hotspots in the south. This is still a pretty laidback place, but it is beginning to gain in popularity and it isn't on this list so much for what's above the water as what's below it – although black sands and a view of the island's volcanoes are pretty awesome in their own right! The real star here though is the coral reef, which is one of the best in Bali, so remember to pack your snorkel! If you are a bit more serious about your underwater adventures, then you can also head to nearby Tulamben and scuba dive on the wreck of the US Liberty.
4. Sundays Beach Club
Have a luxury beach day at Sundays Beach Club. Access to the club is gained through the Ungasan Clifftop Resort, close to Uluwatu. Wander through the resort and you will find a cliffside escalator that will take you down to the private and secluded beach far below. Once you get there, spend the afternoon chilling in a sun lounger, or for a real treat, hire out a VIP beach bungalow. The club has an extensive menu with plenty of gourmet food and world class cocktails and every day is rounded out with nighttime bonfires on the beach.
5. Balangan Beach
Balangan Beach may be on the small side, but it is perfectly formed. Cliffs, white sand, the ocean, a reef and some of Bali's best surfing waves, what more could you want? This is one of the Bukit peninsula's more laidback beaches, you will not find too much infrastructure although there are several stalls selling local food and drinks as well as a few sunbeds scattered around for anyone looking to catch some rays.
6. Bingin Beach
The Bukit Peninsula has some of Bali's most scenic beaches, it's dramatic cliffs provide a beautiful backdrop and make it the perfect place for finding hidden coves. One of the best is Bingin Beach, but, as with all the best things in life, you will have to work a little for it as the only access is via a steep stairway running down the side of the cliff. The effort of getting there though is well worth it as when you get get to the bottom you will find yourself confronted with a stunning view out over the white sand beach and the azure ocean stretching far out to the horizon.
It's pretty quiet down at Bingin Beach, with just a few cafes, villas and boutique hotels scattered around the place. The climb down means that it is usually off the list for all but the most intrepid day-trippers and you are practically guaranteed to get a prime spot on the sand. As an added bonus, it's also a haven for surfers.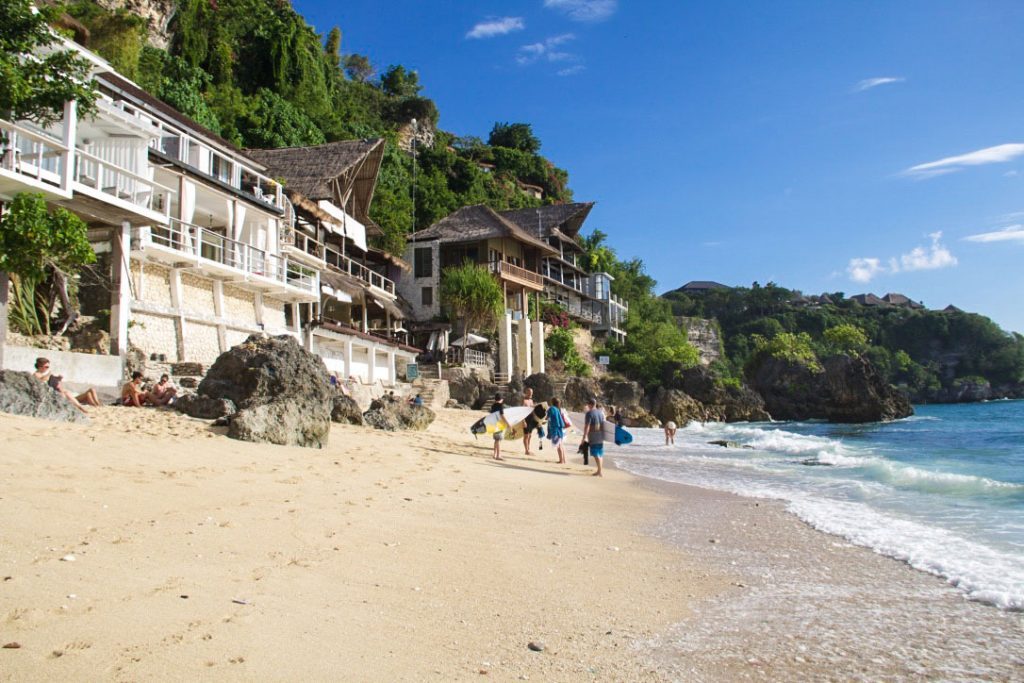 7. Crystal Bay, Nusa Penida
Crystal Bay is probably the most popular beach on Nusa Penida, although seeing as that is by the far the sleepiest of Bali's outlying islands, that really isn't saying much. The beach gets its name from its crystal clear waters, which, combined with its reef, make it a fantastic place for snorkelling – if you get lucky, you may even see the giant Ocean Sunfish, one of the biggest fish in the world!
The beach itself, is a beautiful stretch of white sand with just a few places selling local snacks.