Alternative Beach in Bali's newest unique daytime hangout, right in the heart of Canggu. It opened its doors to the public in December 2018 and now has a flow of travellers, digital nomads, yogis and foodies looking to relax and soak in the chill-out vibes.
An incredibly exciting project, Alternative Beach differentiates itself from the competition by being the only all-encompassing day club in Bali offering hostel accommodation (Kos One Hostel), private rooms (Canggu Village Accommodation), a café (Eat Me), a fitness center (Wanderlust Fitness Studio), a spa (to be opened mid 2019) and a day club, all in one place.
It's hard to look past the beach club's distinguishing design elements. Picture crisp Mediterranean whites, natural wood beams, flowing rounded walls and a fresh splash of palms, plants and cactuses spread throughout. The use of recycled, natural woods throughout the building softens its imposing size and adds to its Greek island feel.
The main feature of Alternative Beach is a jaw-dropping slide that swings around from the third level of the main building and into the awe-inspiring swimming pool. It is quite a sight to sit and watch from the café deck as guests take the plunge and skyrocket past you into the pool. On the other hand, you might just be the adrenaline-seeking guest, go pro in hand, trying the slide out for yourself. The swimming pool also boasts a diving board, a pool bar, a sand beach, day beds, beanbags and rice-field views.
A typical sunset will see you perched up on the café deck, floating around on a bean bag in the pool or nabbing one of the seats at the swim up pool bar with a cocktail in hand, some fantastic beats coming from the DJ booth and a relaxed gathering of guests. Their range of signature cocktails is hard to look past. Whether you opt for the tangy 'Mick Jagger' containing jagermeister, orange fresh and raspberry or the sweet 'Booty Call' comprised of light rum, apple sour, strawberry and framboise, they have something to cater for every taste bud.
Pair your drink with some of Eat Me's enticing meal options, ranging from a healthy tuna poke bowl with market fresh ingredients, a mouth-watering thai dressing and sprinkled with lemon and sesame seeds, to the hearty cheese filled burgers that are a sure fire way to kill any hangover. The open-air café sits on the second floor of the main building and overlooks the mesmerizing swimming pool.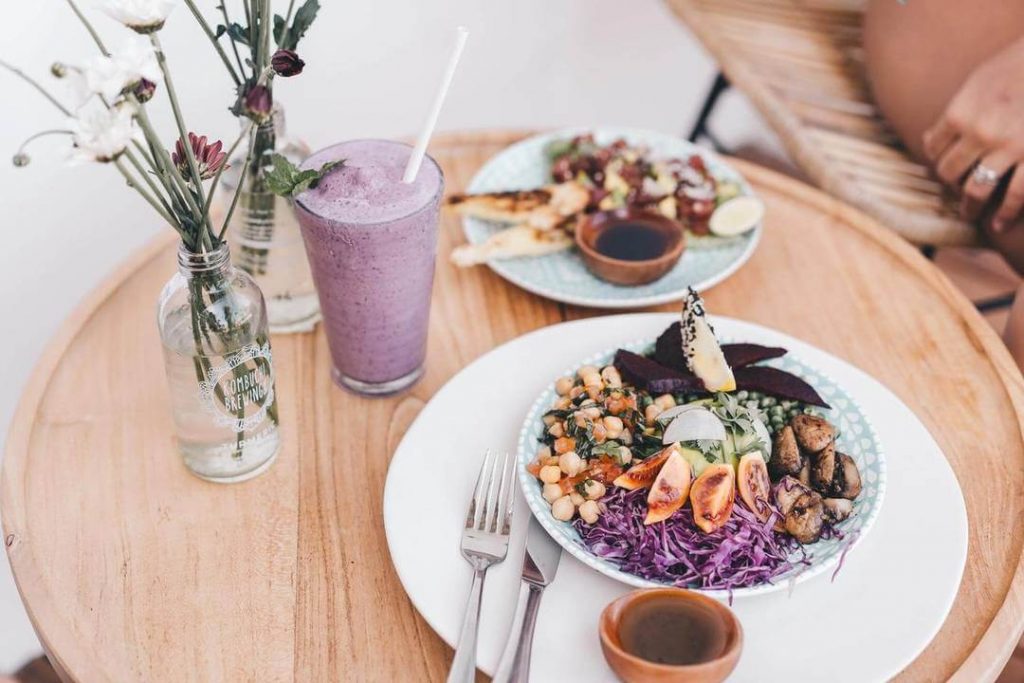 There are a number of weekly events on at Alternative Beach to keep both guests and visitors entertained including a Monday Movie Night, Tuesday Tadasana (a free yoga class), Wine Wednesdays (cheap wine all day), Saturday Pool Sessions (a weekly pool party with guest DJ) and a Sunday Sunset BBQ (all your can eat BBQ for 100K). There is also THREE hours of happy hour every day from 3pm until 6pm.
Alternative Beach is open to the public and operates from 10am until 7pm daily, with special events as an exception to this. It is 100K minimum spend per person which can be spent on day beds, towels or food and drink.
Please visit www.alternativebeach.com for more information and head over to their social media handle (Instagram: @alternative_beach & Facebook: facebook.com/alternativebeach) or contact info@alternativebeach.com with any enquiries